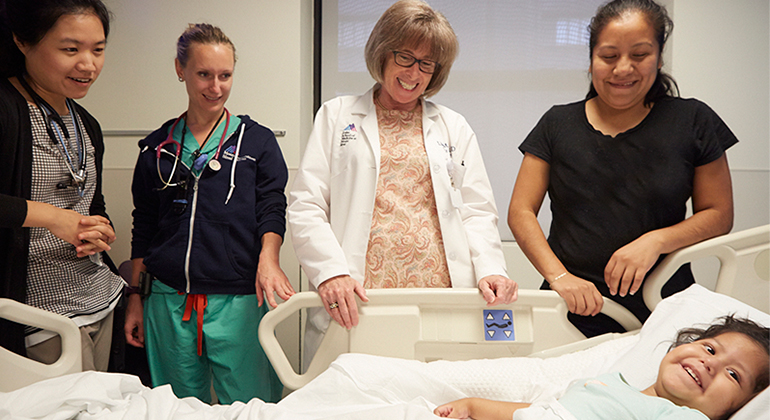 Pediatric Cardiac/Cardiothoracic Intensive Care Unit
The Kravis Children's Hospital has a four-bed pediatric cardiac/cardiothoracic intensive care unit (PCICU), a 16-bed pediatric intensive care unit (PICU), a 46-bed neonatal intensive care unit (ICU), 68 pediatric inpatient beds, and a pediatric emergency room. The PCICU is located on the third floor of the Kravis Children's Hospital, close to the cardiac operating room and catheterization laboratory. Outpatient visits take place in the Annenberg Building, 3rd floor, Suite 3-50.
Our PCICU is designed to promote family-centered care, improve the flow of care within the hospital, and allow young patients and their families to return to the regular hospital environment as quickly as possible.
We use the PCICU for all pediatric patients with congenital heart disease who need intensive care for conditions involving the heart, lungs, or airways. We also use this space to care for children who need certain types of special care, 24 hours a day and 7 days a week.
Our multidisciplinary pediatric team includes intensive care doctors, nurses, cardiologists, cardiac surgeons, respiratory therapists, physiotherapists, dieticians, pharmacists, chaplains, volunteers, and housekeepers. The intensive care attending coordinates your child's care while in the PCICU.
What Parents Need to Know about the PCICU
When we admit your child to the PCICU, we use a series of monitors, drips, and tubes to monitor your child's condition as well as to administer food and medication to your child.
Despite all the medical care we provide, your child always needs the love and support of a parent, friend, or family member. We encourage parents to visit and stay as long as possible. In addition, it can help us help your child if you tell us about your child's personality and likes and dislikes.
We realize that having a child in the PCICU can be frightening and disorientating for you. Please remember that everybody in the unit is here to help you and your child, and you should feel free to ask any questions you might have. It helps to be prepared for what you may see in the PCICU and that we may use in your child's care:
Monitors are a part of the experience of all children in the PCICU. These monitors provide at-a-glance information about the patient's heart rate, blood pressure, temperature, and the amount of oxygen in the blood. We measure your child's heart rate using small sticky pads (electrocardiogram electrodes) attached across the chest. We measure blood pressure using either a blood pressure cuff (like in your doctor's office) or by placing a small tube into an artery, usually either in the wrist, groin, or upper arm. We measure your child's temperature with a probe that we place either at the back of your child's nose or in the bladder.
Cannulae and central lines are thin tubes used to deliver fluids and drugs directly into your child's veins. We may use them to take blood samples as well.
Feeding tubes go from your child's nose into the stomach and help with feeding. We may also be use the tube to drain excess fluid and air and administer medicine.
Sedation reduces your child's pain and discomfort, which is one of our top priorities. We often administer regular and/or continuous doses of sedation and pain relief to make sure your child is comfortable.
Catheters measure and facilitate urine output and we put them into your child's bladder to do so.
Breathing assistance may be necessary for some young patients. We may need to connect your child to a breathing machine or ventilator. To do so, we place an endotracheal tube through the mouth into the windpipe (trachea), often using anesthesia to make it easier process for your child. A breathing machine suctions out phlegm and other secretions. Children who need help with breathing are at very slightly increased risk of chest infections. If necessary, we treat these conditions with antibiotics and physiotherapy.
Chest drains are helpful after heart surgery to drain blood and air from the chest cavity, allowing your child's lungs to expand properly. Typically, surgeons place these drains before the child comes back from surgery to PCICU, though we may add drains in the PCICU.
Pacing wires control your child's heartbeat. Our surgeon may leave the pacing wires and pacemaker in place after heart surgery so that your child's medical team can use them. We may need to change or replace these various tubes and lines, for a variety of medical reasons. If there is an emergency, we will do everything in our power to save life, in accordance with professional guidelines, unless we have had a specific discussion with you beforehand. We always try to discuss this activity with you, as with everything, but we may not be able to do so if you are not available or if the need to change or replace a tube or line is immediate.
Care for the Caregivers
It is important that parents look after themselves. You cannot help your child unless you are in good condition, which means that you need to rest and be well fed; this is especially true for breastfeeding mothers. In addition, you should try and get away from the unit sometimes to go for a walk or spend a little time away from the intensity of the PCICU. There is a lounge area for parents near the PCICU for your relaxation.