Courtney Praises Compassion and Care at Dubin Breast Center
Within two days of being told I had breast cancer, I was referred to the Dubin Breast Center at Mount Sinai through a family friend. I also had another friend that was just treated by Dr. Elisa Port, and my friend was enamored of Dr. Port.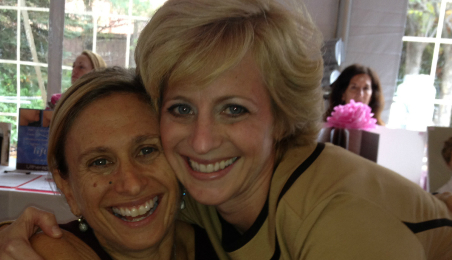 After I met Dr. Port, the decision to get treated at the Dubin Breast Center was a no-brainer. She was warm, caring, and truly an expert in the field of breast cancer. There is no other surgeon like Dr. Port – she is the most compassionate doctor and friend.
I received a lumpectomy followed by 8 rounds of chemotherapy at the Dubin Breast Center. I also received 30 rounds of radiation at another location in Westchester, which was coordinated for my convenience so I would not have to travel far for a daily treatment.
My experience at the Dubin Breast Center was amazing. Every single person was supportive and explained everything to me, and my husband, in a thorough way. We felt totally at ease in the hands of the doctors and nurses at the center. I saw Dr. Port as well as Dr. Kerin Adelson. Everyone from the receptionists to the chemo nurses were wonderful and gracious. At my first chemotherapy session, my nurse Karen was pure comic relief and that was ideal. Dina, another chemo nurse, became a friend and she was so lovely throughout the whole process.
The Dubin Breast Center is a special place that makes the patient feel as though you are the only one they are treating. You are the priority and not a number on a list of cancer patients. Every nurse and doctor I encountered was such an expert at his or her job and was very concerned for my welfare. The Dubin Breast Center takes great pride in treating each patient, and it was a remarkable place for me to be treated while going through the most difficult time of my life.