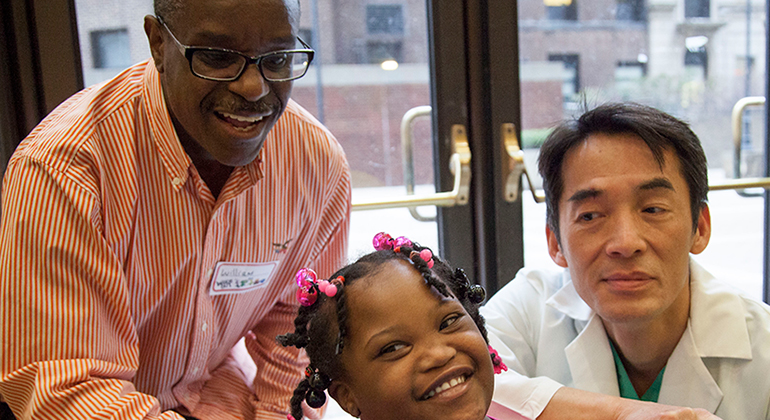 Congenital and Pediatric Cardiac Surgery
In the Congenital and Pediatric Cardiac Surgery Program, we care for patients from before birth to newborns to young adults. Part of an alliance with Mount Sinai and Children's Hospital of Philadelphia (CHOP), we achieve outstanding results with the most intricate and challenging problems, incorporating the most advanced techniques and approaches available.
Part of only three active pediatric heart transplant centers in New York State, our program also provides support for very sick hearts in infants and older children, using extra-corporeal membrane oxygenators or ventricular assist devices.
Through the collaborative efforts of an outstanding and dedicated multidisciplinary team, we support our young patients and their families with comprehensive care. We provide post-operative care in a dedicated Pediatric Cardiac Surgical Intensive Care Unit, under the direction of pediatric cardiologists, intensivists, and surgeons.
In addition, we have several special programs for treating your child's heart condition:
The Interventional Catheterization Program has a team of pediatric cardiologists, anesthesiologists, nurses, and technicians dedicated to the care of patients with congenital heart disease.
The Electrophysiology and Arrhythmia Program offers a full range of diagnostic and therapeutic services for simple and complex pediatric arrhythmias. Diagnostic services include electrocardiograms, transtelephonic arrhythmia detection, event recorder monitoring (24-hour Holter monitoring), and non-invasive study techniques. Therapeutic services include implanting pacemakers and internal defibrillators and performing ablation therapy for supraventricular and ventricular arrhythmias.
Our electrophysiology and arrhythmia team has special expertise in treating rhythm problems in children with complex congenital heart disease. We use advanced tools such as three-dimensional catheter mapping to treat difficult rhythm problems.