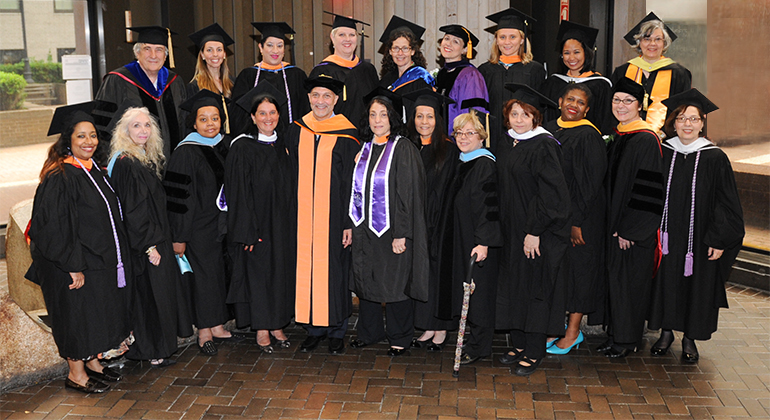 Administration, Faculty, and Staff
Administration
Todd F. Ambrosia, DNP, MSN, FNP-BC, FNAP, Dean
Todd F. Ambrosia, DNP, MSN, FNP-BC, FNAP, is Dean of Phillips School of Nursing. Prior to joining PSON, Dr. Ambrosia was the Associate Dean for Graduate Programs at the University Of Miami School Of Nursing and Health Studies, as well as the Director of the Division of Family Primary Care at the University Of Maryland School Of Nursing. Dean Ambrosia is deeply involved with several national and international health organizations, and travels abroad annually to speak and volunteer his clinical expertise. He is a Board Certified Family Nurse Practitioner, with a clinical focus on Adolescent and Young Adult Health. His scholarly interests include technology enhanced curriculum development, reducing caregiver burden, and initiatives aimed at reducing health risk in young men. Dean Ambrosia is a Distinguished Fellow of the National Academies of Practice, an Ambassador of the United States National Health Service Corps, and a Bravewell Fellow in Integrative Medicine. He is a member of several nursing organizations, most notably, the Advanced Practice and Education Committees of the International Council of Nurses, and the American Academy of Nurse Practitioners.
Lorraine McGrath, MA, RN-BC
Lorraine McGrath is Assistant Dean, Academic Affairs and also teaches Medical-Surgical Nursing and Community Nursing. Professor McGrath became Board Certified in Medical-Surgical Nursing in 2012. She began her teaching career at PBISN in 1982. From 1988-1991, she worked as an Adjunct Clinical Instructor, as well for both the Borough of Manhattan Community College and Hunter-Bellevue School of Nursing. Professor McGrath serves as the Chairperson of the Curriculum Committee at PBISN and was instrumental in process that led to the school's designation as a Center of Excellence from 2014-2018.
Bernice Pass-Stern, MS, MEd, BA
Bernice Pass-Stern is Assistant Dean, Student Services and Institutional Effectiveness. She has worked at the School for over 30 years and, prior to that, worked as an administrator for the nursing department at Mount Sinai Beth Israel. Dean Pass-Stern is a member of Phi Beta Kappa, Rho of New York chapter. She holds two masters degrees: one in education and one in training. She is a Program Reviewer for the New York State Board of Regents, visiting other colleges as part of a site team, to ensure compliance with Regents standards. She is also very active in community service: she serves as Regional Faculty in Basic Life Support for the American Heart Association, currently responsible for mentoring and overseeing the BLS CPR Program at New York Presbyterian Hospital. Dean Pass-Stern is also the Director of Medical Training for the New York City Auxiliary Police Program, providing First Aid and CPR classes to the auxiliary police volunteers on a bi-weekly basis.
Natalie Cline, BA
Natalie Cline is Director, Business Operations where she is responsible for departmental budget, human resources, security, facility management, independent contractors, accounts payable and payroll. Mrs. Cline also manages IT/Desktop Support as well as the administrative staff. The Director, Business Operations collaborates with the Deans to assure the smooth operation of financial and administrative functions for the School. Mrs. Cline began working for the school in 1992 as an Administrative Assistant, and in 2011 was promoted to Office Manager. Prior to her employment at the school, she worked as a Legal Assistant for a real estate/law office in New York City where she was responsible for accounts payables, payroll and other expenses pertaining to 40+ real estate properties. Mrs. Cline holds a Bachelors of Arts in Social Science from the College of New Rochelle, New York.
Linda Fabrizio, BBA
Linda Fabrizio is Director, Development and Communications where she is responsible for foundation/corporate and government grant funding requests and stewardship, special funds, and marketing to increase visibility for PSON's mission, vision, and programs. This position also oversees the marketing campaign and operating budget for the School's Center for Continuing Education. Prior to joining the school, she was an Assistant Director for Development, Institutional Giving for ten years at Mount Sinai Beth Israel. Her interest in healthcare administration was sparked by her early work in the pharmaceutical advertising industry. Ms. Fabrizio holds a Bachelors of Business Administration from Baruch College, CUNY.
Joel LeGurre, BS
Joel LeGurre is Program Manager, Financial Aid. Ms. LeGurre joined the School in Fall 2016 and is responsible for assisting students with attaining the financial resources necessary to successfully achieve their nursing education.
Faculty
Sandra Bell, MSN/ED, RN
Sandra Bell is an Associate Professor at PSON where she teaches medical surgical and mental health nursing. Her clinical background includes medical/surgical, orthopedics, neurology, oncology, hospice and Public Health. Professor Bell has served as a preceptor and mentor for new nurses orienting them to professional practice. She has also served as a charge nurse on the night tour supervising Licensed Practical Nurses and Nursing Assistants. Professor Bell's significant areas of interest include patient safety and public health. She is currently pursuing her doctorate of nursing from the University of Phoenix.
Rosemarie Emmerich, PhD, MS, BS
Rosemarie Emmerich has been teaching the science courses at the school for more than 25 years.
Carmen Feliciano, MSN, RN
Carmen Feliciano is an Associate Professor at PSON, where she teaches advance medical surgical nursing for senior level students. She also is also clinical instructor and practices as a staff nurse in a surgical intensive care unit at Montefiore Medical Center in New York City. Her clinical background includes medical/surgical step-down, and critical care. Professor Feliciano's significant areas of interest include patient safety, healthcare quality, infection control, health disparities and diabetes self-management in Latinos. She is a volunteer for the American Diabetes Association, where she conducts workshops for the Latino Initiative program. Professor Feliciano is a member of Sigma Theta Tau and the Golden Key National Honor Society. In 2013 she was a Nurse of Distinction Honoree and that same year received the Beatrice Renfield Clinical Excellence Award. Professor Feliciano is a member of the National Association of Hispanic Nurses and the American Association of Colleges of Nursing.
Lynn Fisher, MSN, CNM, NP, RN
Lynn Fisher is an Associate Professor at PSON where she teaches women's health, obstetrical and newborn nursing. Professor Fisher is a practicing midwife and advocates for appropriate care of women through the life span. She has been an educator for all of her career and has been in healthcare since 2003. She is currently pursuing her doctorate in nursing at Case Western Reserve University.
Carleen Graham, MSN, RN, NY-SAFE
Carleen Graham is an Associate Professor at PSON where she teaches nursing fundamentals, medical-surgical nursing, and mental health nursing. She has over 20 years of professional clinical experience and her clinical specialties are mental health and emergency nursing. She is a past recipient of the Jonas Center for Nursing Excellence Scholarship. Mrs. Graham is certified as a New York State Sexual Assault Forensic Examiner. She is currently pursuing her doctorate in nursing at Capella University.
Vanessa Hurta, MS, RN-BC, FNP-BC, CLS, FPCNA, FNLA
Mrs. Hurta is an Associate Professor at PSON where she teaches Nursing Fundamentals, Common Health Problems of Adults, International Nursing and is the coordinator of a cultural humility class focused on Haiti. She is also a nurse practitioner, employed by New York University Medical Center at Bellevue Hospital Center Lipid Clinic. Professor Hurta is certified as a Cardiac-Vascular Nurse and Family Nurse Practitioner by the ANCC and Clinical Lipid Specialist by the Accreditation Council for Clinical Lipidology. She is a member of the Northeast Lipid Association Board and the editor for patient education of Lipid Spin, a member publication of the National Lipid Association and also serves on their practice management committee. Professor Hurta is a chapter leader for the NYC Metro chapter of PCNA and serves on the national membership committee. Her past clinical experience was in an internal medicine practice with a focus on cardiovascular disease prevention. She is currently pursuing her doctorate of nursing from the University of Connecticut.
Zelda Suzan EdD, MA, RN-CNE
Zelda Suzan is an Associate Professor at the Phillips School of Nursing where she is a course coordinator for Level II nursing courses and teaches the pediatric portion. She also teaches in the Pathways to Practice course. Professor Suzan has a Certification as a Nurse Educator by the National League for Nursing. She is the co-editor of the book, Issues of Cancer Survivorship: An Interdisciplinary Team Approach to Care. Past courses she has taught at the school include Nursing Fundamentals, Nursing of Common Health Problems of Adults, Nursing of Complex Health Problems of Adults and Mental Health Nursing. Since 1978, she has been involved with the American Cancer Society. Professor Suzan is awaiting word from Walden University she has been awarded her doctorate of education.
Joana Velasquez, MS, RN, CNOR
Joana Velasquez is an Associate Professor for the AAS and RN-BSN program and serves as the Level 1 Coordinator for the AAS program. Prior to joining PSON, she was the nurse educator at Mt. Sinai Beth Israel's Perioperative Services Department. Ms. Velasquez holds a post-graduate certification in nursing administration and is a certified operating room nurse. She also coordinates the continuing education course, An Introduction to Perioperative Nursing. In 2015, she presented the poster board presentation "A School's Journey to Excellence" at the International Council of Nurses in Seoul, South Korea.
Staff
Sharon Fischer, MLS, BS
Sharon Fischer, MLS, has been a research librarian at PSON since 2010. Prior to this position, she was a reference intern at the Biomedical Library at the University of Pennsylvania. Ms. Fischer focused upon health sciences librarianship in her graduate studies and completed her master's in 2009. She earned a post-baccalaureate certification in English as a Second Language (ESL) from Rowan University and has a NJ teaching certificate of eligibility for K-12 in ESL. Ms. Fischer belongs to several professional organizations: Medical Library Association as a Philadelphia chapter member including the Nursing and Allied Health Resources section; American Library Association including the American College and Research Libraries division; the New Jersey Library Association; the Teaching English to Speakers of Other Languages (TESOL) International Association; and NJTESOL/NJBE.
Natalie Jovic, MLIS, BSN, RN- BC
Ms. Jovic has been a librarian at PSON since October 2015. She is also a registered nurse who currently practices in a community hospital on Long Island in the area of medical- surgical and telemetry. Ms. Jovic is certified in the area of medical- surgical nursing by the ANCC. She belongs to several professional organizations including: the Medical Library Association, American Library Association – Student Member, and Sigma Theta Tau, Epsilon Kappa Chapter.
Kurt Villcheck
Kurt Villcheck is the IT Specialist/Simulation Assistant for the school where he is responsible for overseeing IT issues, and works with instructors to implement new technologies. He also assists with Website design and online Course publishing. Mr. Villcheck also oversees the school's Center for Continuing Education. Before joining the school, he did PC building/repair, and freelance 3D graphic design. His custom built computers have been featured in college textbooks and PC magazines.
Letizia Gaeta, BA
Letizia Gaeta is the Bursar/Financial Aid Officer at the school. She brings over ten years of financial aid experience to the PSON community. Ms. Gaeta is a Member of the National Association of Student Financial Aid Administrators (NASFAA) and the New York State Financial Aid Administrators Association (NYSFAAA).
Maria Gallo, BBA
Maria Gallo is Manager, Enrollment Services where she provides front-line services associated with enrollment management which include the areas of Admissions and Registrar. She is responsible for answering queries by phone and email, meeting with prospective applicants, and evaluating past coursework for transfer credits. She began her career at the school as an Educational Assistant in 2002. Prior to joining the school, she was an Assistant Editor at a not-for-profit organization in Makati City, Philippines. Mrs. Gallo graduated with a Bachelors of Business Administration from Aquinas University, Philippines.
Sheila Sinclair
Sheila Sinclair joined the school in 2015. She provides secretarial support to Administration and Faculty.
Julieta Enriquez
Julieta Enriquez has been with the school for over 30 years. She provides support services to the Faculty.