Young Boy has Normal Life Following Minimally Invasive Surgery
Suffering from a debilitating gastrointestinal disorder at birth, Henry's family sought treatment at Mount Sinai's Department of Pediatric Surgery
At birth, Henry's parents noticed that he was lethargic, didn't want to eat, and had problems with his bowel movements. He was seen by several physicians who couldn't figure out the problem. That all changed after his parents were referred to Dr. Peter Midulla, Assistant Professor of Surgery and Pediatrics at Mount Sinai.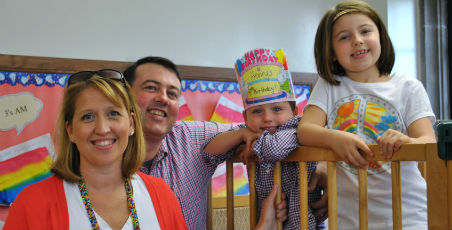 Dr. Midulla immediately recognized that Henry had Hirschsprung's disease – a debilitating gastrointestinal disorder. Henry needed surgery and almost immediately underwent a minimally invasive surgical procedure by Dr. Midulla. The surgery went well, and he was hospitalized for a mere two days, making a full recovery.
Henry's mother, Erin, can't say enough good things about the care her son received at Mount Sinai.
She says "Dr. Midulla and his team went above and beyond the call of duty. They really put our minds at ease. They kept us constantly updated. We couldn't have felt more comfortable, given the circumstances."