Tony-nominated Actress Valisia LeKae Promotes Early Cancer Detection
After receiving a diagnosis of ovarian cancer, Tony-nominated actress Valisia LeKae is using her voice to speak about the importance of early cancer detection
Tony-nominated actress Valisia LeKae used her voice to sing hit songs from the 1960s, recently starring as Diana Ross in "Motown: The Musical" on Broadway. Now, two months after receiving a diagnosis of ovarian cancer, and stepping down from her leading role to receive treatment at The Mount Sinai Hospital, Ms. LeKae is using her voice to speak about the importance of early cancer detection.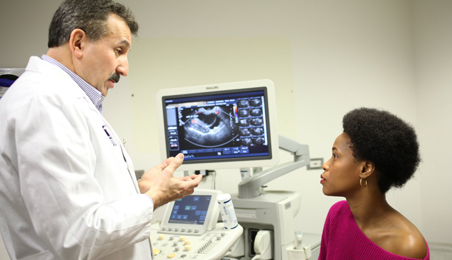 "I have a new role in front of me," says Ms. LeKae, who is a patient of David A. Fishman, MD, Professor of Obstetrics, Gynecology and Reproductive Science at Icahn School of Medicine at Mount Sinai, and Director of Gynecologic Oncology Research at Mount Sinai Hospital. "One that I don't think will stop when I'm cancer free. I can inspire people by sharing my story with them. I want to encourage young people to know their bodies and be aware of symptoms that last more than a week. Then they should talk to their doctor."
Ms. LeKae did not have any known risk factors for ovarian cancer. She is 34 years old, slim, and African American. She had no family history of ovarian or breast cancer, which can be related. But she did have a small cyst on her right ovary that was detected in 2012 and diagnosed a year later, after more than tripling in size.
The diagnosis of a rare form of ovarian cancer found in a microscopic mass within the cyst shocked Ms. LeKae. It was later reconfirmed by Dr. Fishman, a National Institutes of Health-funded researcher and clinician who founded the National Ovarian Cancer Early Detection Program in 1999, and has pioneered the use of ultrasound as an effective method of detecting ovarian abnormalities.
"I called Dr. Fishman on Monday, December 2, and he saw me on Tuesday," says Ms. LeKae. "He immediately calmed me down when I walked into his office, and he told me everything I needed to do. He had a plan in place." It involved preserving her fertility and aggressively combating the cancer. So far, Ms. LeKae reports that she has responded well to her chemotherapy regimen.
Dr. Fishman says, "I am optimistic that Valisia will do very well." All of her tests have come back negative.
Approximately 22,400 women in the United States are diagnosed with ovarian cancer each year. If the disease is caught early, at stage 1, the five-year survival rate approaches 90 percent. If it is diagnosed at an advanced stage, the five-year survival rate slides to about 15 percent.
Ms. LeKae is "heroic for using her celebrity to help other people," says Dr. Fishman, who hopes her experience will encourage women to have their ovaries examined if they experience persistent pelvic discomfort for more than a week. He says the ovaries are often overlooked.
In addition, he plans to change the name of his program to the National Ovarian Risk Assessment Program, which reflects the goal of using molecular biology and genetics to identify women at risk, before they develop ovarian cancer. In this endeavor, he is working with Brian D. Brown, PhD, Associate Professor of Genetics and Genomic Sciences at Icahn School of Medicine at Mount Sinai, and other researchers at The Tisch Cancer Institute and around the country, to examine the role of immune-based interventions.