Mildred Makes Quick Recovery With a CoreValve
"I put my life in Dr. Sharma's hands without any reservations, and I'm so glad I did."
Patient: Mildred Faist
Diagnosis: Acute on chronic systolic heart failure, aortic valve disease
Treatment: Transcatheter aortic valve implantation (TAVI) using 29 mm CoreValve
Mrs. Faist has long suffered from pulmonary hypertension. In 2011, she made an appointment to see her cardiologist because she was having trouble breathing, and that doctor sent her immediately to her local hospital. She was given an angiogram, and the doctor who performed it told her she was in heart failure. "Yours is the most complicated case I've ever seen. I'm sending you to Mount Sinai."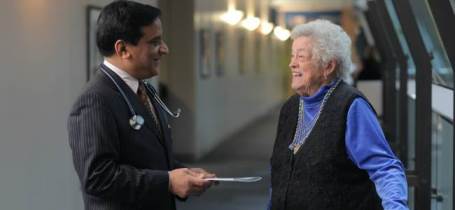 "At Mount Sinai they put me through all kinds of tests," she said, "and then they told me I qualified to be enrolled in the clinical trial for the CoreValve. My condition was so serious that I wasn't a candidate for open-heart surgery, so I was glad to learn that the procedure would be minimally invasive."
It was performed on June 7, 2011. "I was apprehensive, naturally," Mrs. Faist said, "but everything went fine. My recovery was surprisingly quick. In fact, I think that even Dr. Sharma was surprised at how soon I was back to my old routines, driving my car, doing my shopping. I felt better than I had felt in years.
"From the moment I first met him, I knew that Dr. Sharma was a warm, caring person as well as a skilled physician. I put my life in his hands without any reservations, and I'm so glad I did."