Hurricane Sandy Baby is Beam of Hope
After enduring high-risk pregnancy complications, a sled evacuation, a trip to Mount Sinai, and a C-section, mom Deborah gave birth to baby Kiran
When the lights went out at NYU Langone Medical Center on the Monday night Hurricane Sandy struck, a streak of worst-case scenarios raced through the heads of husband and wife Michael Heiman and Deborah Dadlani. At week 29 of a pregnancy made high risk by placenta previa—a condition in which the placenta covers all or part of the opening to the cervix—Deborah had been at NYU on bed rest since October 4, and just the day before, she experienced some hemorrhaging. Now without lighting or functioning monitors, Deborah felt another hemorrhage, and a team of clinicians was manually taking her vitals and using a hand-held Doppler to check the fetus's heart rate. At this point there was still no formal evacuation order—only questions.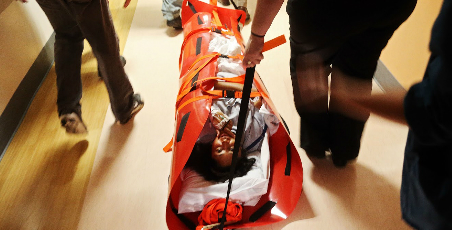 "What if the hemorrhaging leads to contractions, which lead to the need for an emergency C-section, which could no longer be performed where we were," Michael remembers thinking. "And even if Deborah somehow did manage to deliver, where would they put a preemie without a functioning NICU?" On the other hand, Deborah worried about how safe it would be to board an ambulance in hurricane conditions.
But finally the evacuation order came, and the concerned parents were told where they were going. "When they said they were sending us to Mount Sinai I was very relieved," says Michael. "Our doctors who had been consulting on our high-risk pregnancy were there, plus I knew about the hospital's strong reputation."
Getting Deborah out of NYU meant a team transferring her from her bed, bundling her into a red evacuation sled, dragging her through the hall, and carrying her down eight floors by the glow of flashlights. "I wasn't frightened as much as I was just overwhelmed by how unbelievable the whole situation was," Deborah remembers. "It was a very surreal experience." In the hospital lobby EMT's took Deborah, a nurse, and physician Heidi Flagg, MD, to the back of a waiting ambulance, while Michael got in the front passenger seat for a crucial reason.
"Our EMT's were a FEMA crew from Michigan who had never been to New York," Michael says. "The hospital would release us only if I confirmed I knew how to get to Mount Sinai because the ambulance driver had no idea."
Throughout the 10-minute ride—made circuitous by flooding on First Avenue—the farther north the ambulance progressed the calmer conditions became. "It was almost eerie to go from all the noise and activity of the scene at NYU to the darkness and calm uptown," Michael says. Shortly after 10:00 pm, the couple was admitted to the care of Mount Sinai's Samuel D. Bender, MD. With Deborah safely in bed and Michael in a "dad chair," they managed to get an hour or two of sleep.
An Early Arrival
Despite their circumstances, Michael and Deborah were grateful the rest of their family was safe. Their two-year-old daughter Anjali—who had also been born prematurely—was staying with Deborah's mother in California and Michael's parents were traveling abroad. For the time being the situation was calm, but by Tuesday afternoon, her condition started to deteriorate.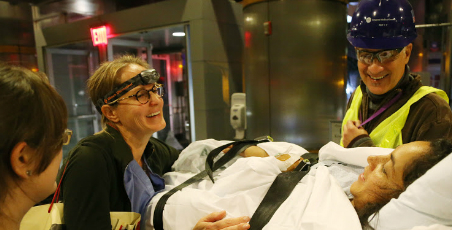 Because continued hemorrhaging was now placing Deborah at risk, her doctors - led by Mount Sinai's Chad Klauser, MD - made the decision to perform an emergency C-section. "We were frightened," remembers Deborah. "I didn't want to have our child delivered at 29 weeks, but we had each other and we trusted our doctors, so all we could do was pray for a healthy outcome."
Due to the early date, the couple hadn't yet picked a name, though Deborah had a list in mind. "When we went into delivery she told me her list," Michael says. "From that I narrowed it down to two, and we finally picked one." The couple knew the Cesarean was a success at 8:01 pm, when they heard the wail of healthy lungs as Kiran Heiman—weighing 3 lbs., 1 oz.—announced his entrance to the world. After a photo with mom and dad snapped by their anesthesiologist, Kiran was taken to the NICU, where he would go on to progress well.
A Family Moves Forward
"We didn't plan to give birth at Mount Sinai, but we're very happy we're here," says Michael. "We're all in such good hands and the level of care has been just excellent."
Deborah agrees. "You couldn't write a script like what we've been through," she adds. "But we have to attribute the way our story turned out to so many people at FEMA, NYU, and Mount Sinai."
It wasn't until Michael went to write their family to share news of their baby boy's arrival that he looked up "Kiran" online and learned it was the most appropriate name they could have given a boy born in a hurricane. "It turns out 'Kiran' means 'beam of light' in Sanskrit," Michael says. "And that's exactly what our son is.'