Happy Heart Surgery Outcome In a Harrowing Hurricane
At just eight days old, little O-Rianna had been through a stay at the NICU, congenital heart surgery, a record-breaking hurricane, and a transport from NYU Langone Medical Center to The Mount Sinai Hospital in the height of the storm to keep her heart and vitals balanced. Born on Oct. 13 at 5 lbs., 7 oz, she arrived more than a month early and was placed in the NICU at NYU, and then in the operating room for surgery to correct her truncus arteriosus (a rare congenital heart disease where two artereries, the pulmonary trunk and aorta, are fused together in one single blood vessel).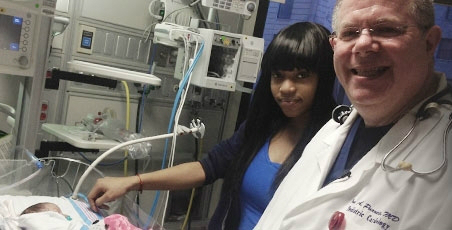 Unbeknownst to her mother and family, more drama was on the horizon. Hurricane Sandy came roaring up the east coast, slapping Manhattan with intense flooding. NYU suffered a power outage that led to the evacuation of hundreds of patients. The last unit announced to be shut down was the one where O-Rianna was placed.
"We were watching the news, wondering where O-Rianna was," her mother, Stel-lashu, explained. "We called and called to see where she was placed, and they eventually told us Mount Sinai. It took us quite a while to travel from Long Island to Manhattan, and it was particularly scary – not just because of the weather conditions, but because we didn't know if something happened to her. My other concern was that we needed to arrive at the hospital as quickly as possible to let her know that her family was there for her."
"It was a dramatic situation at NYU – the power outage led to a lack of elevator usage, which meant transporting patients downstairs on foot in the dark," remarked Ira Parness, MD, Chief of the Division of Pediatric Cardiolgy at Mount Sinai. "Hurricane Sandy was truly a testament to the levelheadedness among NYU's physicians and staff."
Relief Upon Arrival at Mount Sinai
Arriving at Mount Sinai was "such a relief" for Stel-lashu. "From the time my family and I arrived at Mount Sinai, someone was always making sure O-Rianna was OK and her vitals were stable. I'm so thankful for the care teams at both NYU and Mount Sinai. They were well prepared and everyone has been so focused on her well-being. I'm just so happy she's OK!"