Desire to Donate Spurs Lifestyle Change
When his daughter needed a kidney transplant, Carlos Caceres lost weight and controlled his blood pressure in order to donate. Now he and his daughter both live healthy lives.
At age 14, Tatiana Caceres was diagnosed with Lupus — an autoimmune disease that caused tremendous pain in her joints and legs. Eventually the disease attacked her kidneys, and Tatiana became dependent on a kidney machine three-times-a-week to survive.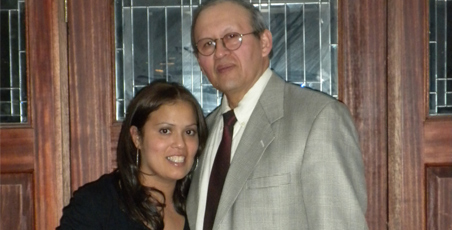 Tatiana needed to find a kidney donor. Her mother and siblings were tested but ruled out medically. Carlos, her father, was a good match — but doctors said he would need to lose weight and get his blood pressure under control before he could be cleared as a living donor.
Carlos was determined. He changed his diet and took long walks with his dogs. After 8 months, he had lost more than 40 lbs and was cleared to donate.
Tatiana was 32 when she had her living donor kidney transplant,. She now teaches first grade at PS 97 in Queens, N.Y. She shows her students the "battle wounds" from dialysis on her arms and hopes she conveys the importance of resilience, gratitude and family love.
"It was painful to pick Tatiana up from dialysis," Carlos said. She would say, 'Poppy I can't do this anymore.' To see her so happy makes me happy…I felt peaceful for donating."