Atherectomy Restores Manuel's Health
"I cannot express how happy I'm feeling, and how grateful I am to God and to Dr. Moreno."
Patient: Manuel de Jesus Tavares
Diagnosis: Angina, coronary atherosclerosis of native vessel, coronary atherosclerosis of bypass graft
Treatment: Coronary angiography, rotational atherectomy, placement of five DES
For Mr. Tavares, Dr. Pedro R. Moreno was literally the answer to a prayer.
His mother died of heart disease at only 42, and five brothers passed before age of 50, but Mr. Tavares worked in construction and led an active life until he was 55, although he had diabetes, hypertension, and high cholesterol. Bypass surgery in September 1991 started a long, difficult stretch of years. "After the surgery, I didn't feel well," he said. "I couldn't walk three blocks without gasping for breath, and I had constant pain in my legs."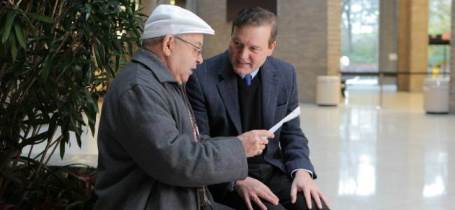 He saw a variety of doctors at city hospitals and clinics, without relief. He underwent angioplasty in 2007 but continued to suffer pain in his legs and his chest. His quality of life deteriorated to desperate levels. "I couldn't lift anything — I could hardly walk across the room," he said.
He underwent angioplasty again in June of 2011. He felt no better, but he remembers that the doctor told him, "You'll have to learn to live with it."
Almost defeated by this hopeless situation, Mr. Tavares sat down and wrote out a prayer, his "oracion a papá Dios nuestro señor," in which he asked God to send a doctor who would restore him to health. He read the prayer faithfully every day. Then a neighbor told him about Dr. Pedro R. Moreno at Mount Sinai Hospital.
He saw Dr. Moreno in September. "He said, 'I know I can help you.'" During a six-hour operation, Dr. Moreno performed rotational atherectomy and placed five stents in Mr. Tavares' heart. Today, he is walking for exercise and maintaining a healthy diet.