A New Father Weathers the "Perfect Storm"
Late stage liver disease; his first child on the way; his treatment center closed by Hurricane Sandy—for Kevin Pugh, it was a perfect storm of the existential kind. But thanks to a loving wife and his team at Mount Sinai, he weathered it all
Unable to sleep, Kevin Pugh grabbed his phone from his bedside and started composing a letter to his unborn child: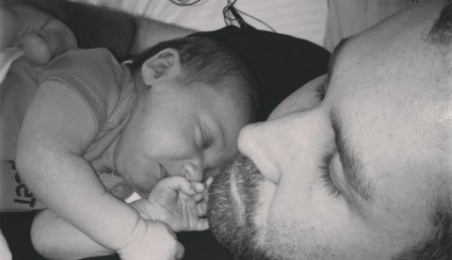 "The day I learned of your existence and pending arrival … the world I lived in crashed down and a new reality was upon me. … What kind of father will I be? What do I want to teach you? The world is a beautiful place and so many wonders await you. I can't wait to show them all to you and see them for the first time again through your eyes…"
For Kevin, it was an introspective time. Almost a decade after being diagnosed with primary sclerosing cholangitis (PSC), a slow-progressing disease of the bile ducts that leads to cirrhosis of the liver and eventually liver failure, the condition was finally catching up to him. He was still able to work from home, but chronic fatigue and sleep deprivation, common symptoms of PSC, were increasingly taking their toll. It was clear that he needed a new liver. But in New York State, where the wait time can be as long as seven years, there was no telling when one might come. Would he be there for his daughter's birth? What about being there to watch her grow?
If that wasn't enough to worry about, in October—just as Kevin's condition was worsening—Hurricane Sandy came barreling down, flooding his hospital, closing it for weeks.
"It's a stressful process as it is to wait for a transplant and not know when you're going to get the call," Kevin says. Add to that a deteriorating condition and expectant wife, and you might say it was a perfect storm.
Upon the advice of his NYU doctor, Kevin transferred to Mount Sinai's Recanati/Miller Transplantation Institute. It proved a good match. "When I first met with [the team at] Sinai, I had a good feeling. … I felt like it was the right place," Kevin says. At Mount Sinai, Kevin was followed closely by his clinical coordinator, Ramon Kapoor and his hepatologist, Leona Kim-Schluger, MD, associate director of the RMTI. Within days, they arranged to have his wait time transferred over. They were also able to get him additional points towards his wait list rank, improving his odds of getting an organ sooner.
Within weeks, the team's efforts paid off. In the middle of a February night, "the call" finally came. An organ had been identified in Buffalo.
"The call was surreal," Kevin says. "I wasn't expecting it to happen that quickly."
The following day, as Kevin waited for surgery, his thoughts were with his wife and child, and how the stress of the situation would affect them. As for himself, ironically, he felt a degree of relief. "I was so nervous about getting the call the week my child was born," he says. "That became one of my biggest fears. I wasn't necessarily scared of what could happen in the surgery—I was really more concerned about whether I would get this call when my wife is giving birth and has to do it alone."
That night, Kevin was finally taken in for surgery. Jami waited down the hall. Afterwards, she barely left his side. "My wife was amazing throughout the process," Kevin says. "She is such a strong woman."
A New Beginning
Just a few weeks post-surgery, Kevin found himself waiting in a hospital room again—this time as Jami went through labor before giving birth to a healthy baby girl. He was healthy enough to sit bedside the entire time, like Jami did for him. He wouldn't have had it any other way.
The couple named their daughter Delaney, after Kevin's grandmother.
"I want to be healthy and share in your happiest moments," Kevin wrote to her in that letter last fall. With his daughter just two weeks old, he reiterated that desire, adding how invigorated he's been since her birth. "Since the week of my daughter's birth, my energy levels have been so much better—I've been feeling so much better," he says. Underscoring the sincerity of the point, when asked how much sleep he is getting with a newborn in the house, he chuckles. "Not much," he says.
Having navigated the storms of the past year successfully, Kevin looks forward to the adventures of fatherhood ahead.