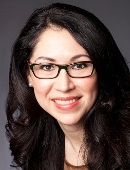 Susana Gonzalez, MD
Hospital Affiliations
The Mount Sinai Hospital
Mount Sinai Beth Israel
Susana Gonzalez, MD, received her undergraduate degree from the University of Chicago and her medical degree from the University of Michigan Medical School. She completed her internal medicine residency and gastroenterology fellowship training at the New York Presbyterian Hospital/Columbia University Medical Center. She then completed an additional fellowship in Interventional Endoscopy also at New York Presbyterian Hospital/Columbia University Medical Center. Dr. Gonzalez's clinical interests are in pancreaticobiliary diseases and the diagnosis and management of gastrointestinal cancers. She specializes in advanced endoscopic procedures including therapeutic and diagnostic endoscopic ultrasound (EUS), fine needle aspiration (FNA), endoscopic retrograde cholangiopancreatography (ERCP), enteroscopy, surgically altered anatomy ERCP, endoscopic mucosal resections, radiofrequency ablation and cryoablation.
Clinical Focus
Colon Polypectomy
Colon Polyps
Colorectal Cancer
Dyspepsia
Dysphagia
Endoscopic Band Ligation
Endoscopic Retrograde Cholangiopancreatography
Endoscopic Ultrasonography
Esophageal Stricture
Pancreatitis
Rectal Cancer
Upper GI Endoscopy
Language
English
2009
Best Presentation 2009 NYSGE Fellows Intra-city Rounds
NYSGE

2009
Chief Gastroenterology Fellow
New York Presbyterian Hospital - Columbia University Medical Center

2008
ACG National Fellows' Forum Presenter
American College of Gastroenterology

1997
Howard Hughes Medical Institute Undergraduate Summer Research Fellowship

1997
National Hispanic Scholarship Fund Scholar

Gonzalez S, Yu WM, Smith MS, Slack KN, Rotterdam H, Abrams JA, Lightdale CJ. Randomized comparison of 3 different-sized biopsy forceps for quality of sampling in Barrett's esophagus. Gastrointestinal endoscopy 2010 Nov; 72(5).
Gonzalez S, Gupta A, Cheng J, Tennyson C, Lewis SK, Bhagat G, Green PH. Prospective study of the role of duodenal bulb biopsies in the diagnosis of celiac disease. Gastrointestinal endoscopy 2010 Oct; 72(4).
Chang MS, Shah JP, Amin S, Gonzalez S, Prowda JC, Cheng JM, Verna EC, Rockey DC, Frucht H. Physician knowledge and appropriate utilization of computed tomographic colonography in colorectal cancer screening. Abdominal imaging 2011 Feb;.
Vaccaro BJ, Gonzalez S, Poneros JM, Stevens PD, Capiak KM, Lightdale CJ, Abrams JA. Detection of intestinal metaplasia after successful eradication of Barrett's Esophagus with radiofrequency ablation. Digestive diseases and sciences 2011 Jul; 56(7).
Sharaiha RZ, Gonzalez S, Ramos C, Sethi A, Poneros JM, Frucht H, Stevens PD. Endoscopic management of duodenal neoplasms and factors leading to incomplete resection and recurrence: where are we now?.;.
Gonda TA, Glick MP, Sethi A, Poneros JM, Palmas W, Iqbal S, Gonzalez S, Nandula SV, Emond JC, Brown RS, Murty VV, Stevens PD. Polysomy and p16 deletion by fluorescence in situ hybridization in the diagnosis of indeterminate biliary strictures. Gastrointestinal endoscopy 2012 Jan; 75(1).
Gonzalez S, Lightdale CJ. Tumors of the Esophagus. In: The Esophagus, 5th Edition. Blackwell Publishing;.