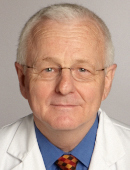 Michael Edye, MBBS
Position

ADJUNCT PROFESSOR | Surgery
Dr. Edye is a nationally and internationally recognized pioneer and expert in the field of laparoscopic and minimally invasive abdominal surgery.

A graduate of the University of Sydney School of Medicine, Dr. Edye completed his post-graduate surgical training in Sydney, Australia. In 1991, Dr. Edye elected to concentrate on the then emerging field of laparoscopic surgery and undertook a fellowship with Professor Jacques Perissat at the University of Bordeaux, France. Upon completing his fellowship, he was recruited to Mount Sinai School of Medicine in 1993 where he became acting chief of the Division of Laparoscopic Surgery from 1997 before being recruited as Director of Minimally Invasive Surgery at NYU Medical Center in 1999.

Dr. Edye's pioneering work in laparoscopic surgery included the use of cholangiography and bile duct interventions for surgery of the biliary tract, the development of techniques for the repair of large hiatal hernia and institution the first live donor nephrectomy program in the northeast.

Dr. Edye has published numerous original manuscripts in peer-reviewed journals, chapters in surgical textbooks and book reviews, and serves on the editorial board of Surgical Endoscopy. He regularly presents work at national and international scientific meetings and has taught and operated by invitation in Europe, Asia and Australia.

His clinical practice is devoted to minimally invasive abdominal surgery with special interests in the upper GI tract, surgery for obesity, and solid organ removal.
Clinical Focus
Language
English
2009
Scholarship to Attend Leadership Program in Health Policy and Management at Brandeis University
SAGES