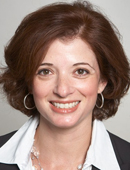 Melissa P Wasserstein, MD
Position

ADJUNCT ASSOCIATE PROFESSOR | Genetics and Genomic Sciences
Clinical Interests: Medical Genetics, Pediatric Genetics, Inborn Errors of Metabolism, Lysosomal Storage Diseases, Newborn Screening, Urea Cycle Disorders, Hyperammonemia, Fatty Acid Oxidation Defects, Organic Acidemias, Maple Syrup Urine Disease
Dr. Wasserstein is the Director of the Program for Inherited Metabolic Diseases (PIMD) at Mount Sinai Medical Center. This program is one of the largest metabolic disease treatment programs in the country, treating several hundred patients who are diagnosed with rare inborn errors of metabolism. The PIMD is a New York State Newborn Screening designated referral center for infants with inherited metabolic diseases, and is also the leading referral center in the region for the evaluation of patients with suspected inborn errors of metabolism. Disorders that are treated at the PIMD include:
* Phenylketonuria (PKU)
* Maple Syrup Urine Disease
* Homocystinuria
* Urea Cycle Defects
* Galactosemia
* Organic Acidemias
* Fatty Acid Oxidation Defects
* Glycogen Storage Diseases
* Mitochondrial Diseases
* Tyrosinemia
* Disorders of cobalamin metabolism
* Biotinidase deficiency
Dr. Wasserstein is part of Mount Sinai's International Center for Types A and B Niemann-Pick disease. She is also a clinical researcher, focusing on evaluating the safety and effectiveness of novel treatments for patients with inborn errors of metabolism.
In the News:
Dr. Wasserstein discusses testing babies for metabolic disorders in the The Daily News feature,
The Daily Check Up
.
Clinical Focus
Biotinidase Deficiency
Carnitine Disorders
Disorders Of Cobalamin Metabolism
Disorders Of Tetrahydrobiopterin Metabolism
Fatty Acid Oxidation Defects
Glutaric Acidemia
Glycogen Storage Diseases
Hypoglycemia
Leukodystrophy
Metabolic Encephalopathy
Mitochondrial Myopathy
Newborn Screening
Organic Acidemias
Pompe Disease
Propionic Acidemia
Tyrosinemia
Urea Cycle Defects
Education
BS, Cornell University
Language
English
Clinical trials to evaluate the safety and effectiveness of new treatments for patients with
Type B Niemann-Pick disease
Phenylketonuria
Late onset Pompe disease
Longitudinal studies to learn about natural history of patients with
Types A and B Niemann-Pick disease
McGovern MM, Wasserstein MP, Giugliani R, Bembi B, Vanier MT, Mengel E, Brodie SE, Mendelson D, Skloot G, Desnick RJ, Kuriyama N, Cox GF. A prospective, cross-sectional survey study of the natural history of Niemann-Pick disease type B. Pediatrics 2008 Aug; 122(2): e341-349.
Wasserstein M, McGovern MM. Genetic basis of the lipid storage disorders. Future Lipidology 2008 April; 3(2): 189-201.
Willis A, Vanhuse C, Newton K, Wasserstein M, Morotti R. Farber Disease Type IV Presenting with Cholestatic Jaundice and neonatal liver failure:Report of Two Cases. Pediatr Dev Pathol 2007 Sept; 28(1).
Mc Guire PJ, Lim-Melia E, Diaz GA, Raymond K, Larkin A, Wasserstein MP, Sansaricq C. Combined liver-kidney transplant for the management of methylmalonic aciduria: A case report and review of the literature. Mol Genet Metab 2007 Oct 25;.
Salomons GS, Gibson KM, Landegge Pope L, Errami A, Potter M, Nowaczyk M, Olpin S, Manning N, Raiman JJ, Slade T, Champion MP, Peck D, Gavrilov D, Hillman R, Hoganson GE, Donaldson K, Shield JH, Ketteridge D, Wasserstein MP, Jakobs C. Clinical, enzymatic and molecular characterization of nine new patients with malonyl-coenzyme A decarboxylase deficiency. J Inherit Metab Dis 2007 Feb; 30(1): 23-28.
Wasserstein MP, Aron A, McGovern MM, Simonaro C, Desnick RJ, Brodie SE. Acid sphingomyelinase deficiency: Prevalence and characterization of an intermediate phenotype of Niemann-Pick disease. J Pediat 2006 October; 149(4): 554-559.
McGovern MM, Aron A, Wasserstein MP, Desnick RJ, Brodie SE. Natural history of Type A Niemann-Pick disease: possible endpoints for therapeutic trials. Neurology 2006 Jan 24; 66(2): 228-232.
Wasserstein MP, Buchsbaum MS, Sansaricq C, Snyderman SE. Cerebral glucose metabolism in patients with early treated classical phenylketonuria. Molec Genet Metab 2006 March; 87: 272-277.
Mendelson DS, Wasserstein MP, Desnick RJ, Glass R, McGovern MM, Skloot G, Vanier M, Bembi B, Giugliani R, Simpson W. Findings and Pulmonary Function in Niemann-Pick Disease Type B. Radiology 2006 Jan; 238(1): 339-345.
Wasserstein MP, Desnick RJ, Schuchman EH, McGovern MM, Wallenstein S, Lamm C, Hossain S. Natural history of type B Niemann-Pick Disease: results from a ten. Pediatrics 2004 Dec; 114(6): 672-677.