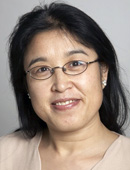 Maoxin Wu, MD, PhD
Position

ADJUNCT PROFESSOR | Pathology
Clinical Focus
Bronchoscopy, Diagnostic
Fine Needle Biopsy
Head and Neck Cancers
Squamous Cell Carcinoma
Language
English
Co-investigator of T. Godfrey in Molecular detection of occult metastases in lung cancer.
IRB proved clinical research project: Advanced therapeutic monitoring of head and neck squamous cell carcinoma via FNA and molecular studies.
Study of XIAP in lung lesions including benign, hyperplasia, atypical adenomatous hyperplasia and carcinomas and mesotheloma.
Immunohistochemical study of tumor makers in various types of Cancer.
Hu HP, Wu M. Mechanism of anesthetic action: oxygen pathway perturbation hypothesis. Med Hypotheses 2001 Nov; 57(5): 619-27.
Wu M, Putti TC, Bhuiya TA. Comparative study in the expression of p53, EGFR, TGF-α and cyclin D1 in verrucous carcinoma, verrucous hyperplasia, and squamous cell carcinoma of head and neck region. Appl Immunohistochem Mol Morphol 2002 Dec; 10(4): 351-6.
Hu H, Wu M. Spin-mediated consciousness theory: possible roles of neural membrane nuclear spin ensembles and paramagnetic oxygen. Med Hypotheses 2004; 63(4): 633-46.
Wu M, Burstein DE. Fine needle aspiration [review]. Cancer Invest 2004; 22(4): 620-8.
Wu M, Yuan S, Szporn AH, Gan L, Shtilbans V, Burstein DE. Immunocytochemical detection of XIAP in body cavity effusions and washes. Mod Pathol 2005 Dec; 18(12): 1618-22.
Wu M, Szporn AH, Zhang D, Wasserman P, Gan L, Miller L, Burstein DE. Cytology applications of p63 and TTF-1 immunostaining in differential diagnosis of lung cancers. Diagn Cytopathol 2005 Oct; 33(4): 223-7.