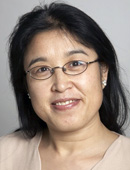 Maoxin Wu, MD, PhD
Position

ADJUNCT PROFESSOR | Pathology, Molecular and Cell Based Medicine
Clinical Focus
Bronchoscopy, Diagnostic
Fine Needle Biopsy
Head and Neck Cancers
Language
English
Co-investigator of T. Godfrey in Molecular detection of occult metastases in lung cancer.
IRB proved clinical research project: Advanced therapeutic monitoring of head and neck squamous cell carcinoma via FNA and molecular studies.
Study of XIAP in lung lesions including benign, hyperplasia, atypical adenomatous hyperplasia and carcinomas and mesotheloma.
Immunohistochemical study of tumor makers in various types of Cancer.