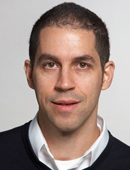 David Grodberg, MD
Position

ADJUNCT ASSISTANT PROFESSOR | Psychiatry
Dr. Grodberg is an investigator on several clinical trials and neuroimaging studies. He is the developer of the Autism Mental Status Exam, which is a brief diagnostic observational assessment for Autism Spectrum Disorders. Dr. Grodberg also maintains a private practice as a psychopharmacologist and psychotherpist. Dr. Grodberg is board certified in both Psychiatry and Child/Adolescent Psychiatry.
Clinical Interests
Autism spectrum disorders
ADHD
Learning Disorders
Mood Disorders
Psychopharmacology
An assessment tool for the 'new' autism-Medscape
http://www.medscape.com/viewarticle/805223

Financial & Billing Information
Please direct any detailed billing or financial inquires to the Mount Sinai Psychiatry billing customer service number at 212-659-8752.
Clinical Focus
Anxiety
Attention Deficit Hyperactivity Disorder And Attention Deficit Disorder
Autism
Depression
Education
BA, Wesleyan University
Language
English
KL2 Faculty Scholars Award
Mount Sinai

T32 National Research Service Award

Grodberg D, Soorya L, Kolevzon A, Buxbaum JD. "Brief report: the autism mental status examination: development of a brief autism-focused exam.". Journal of Autism and Developmental Disorders 2012; 42(3): 455-459.
Grodberg D, Weinger PM, Halpern D, Parides M, Kolevzon A, Buxbaum JD. The autism mental status exam: sensitivity and specificity using DSM-5 criteria for autism spectrum disorder in verbally fluent adults. Journal of autism and developmental disorders 2014 Mar; 44(3).