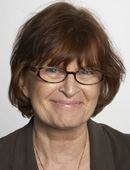 Position

HONORARY LECTURER | Pediatrics
Dr. Hurlet is board certified in Pediatric Hematology/Oncology by the American Board of Pediatrics.
Dr. Hurlet's areas of expertise include: Neonatal Hemostasis, Thrombosis, Coagulopathy, Stroke prevention in patients with Sickle Cell disease.
Clinical Focus
Benign Hematology
Bone Marrow Failure
Hemophilia A & B
Hypercoagulability
Sickle Cell Disease/Sickle Cell Anemia
Thalassemia Major And Minor
Thrombosis
Language
English
Berdon WE, Haller JO, Ruzal-Shapiro C, Hurlet A, Levin TL. Intrasplenic masses of 'preserved' functioning splenic tissue in sickle cell disease: correlation of imaging findings (CT, ultrasound, MRI, and nuclear scintigraphy). Pediatr Radiol 1996 Sep; 26(9): 646-9.
Sano M, Haggerty R, Kugler S, Martin B, Prohovnik I, Hurlet A, Piomelli S, De Vivo D. Neuropsychological consequences of the Sickle Cell Disease. Neuropsychiatry Neuropsychol Behav Neurol 1996; 9: 242-7.
Sheth S , Ruzal-Shapiro C , Hurlet A, Piomelli S , Berdon WE. Pulmonary embolism developing in patients with sickle cell disease on hypertransfusion and IV deferoxamine chelation therapy. Pediatr Radiol 1997 Dec; 27(12): 926-8.
Koumbourlis AC, Hurlet A, Bye MR. Lung function in infants with sickle cell disease. Pediatr Pulmonol 1997 Oct; 24(4): 277-81.
Adams RJ, Adams RJ, Mckie VC, Brambilla D, Carl E, Gallagher D, Nichols FT, Roach S, Abboud M, Berman B, Driscoll C, Files B, Hsu L, Hurlet A, Miller S, Olivieri N, Pegelow C, Scher C, Vichinsky E, Wang W, Woods G, Kutlar A, Wright E, Hagner S, Tighe F, Waclawiw MA. Stroke prevention trial in sickle cell anemia. Control Clin Trials 1998 Feb; 19(1): 110-29.
Adams RJ, Mckie V, Hsu L, Files B, Vichinsky E, Pegelow C, Abboud M, Gallagher D, Kutlar A, Nichols FT, Bonds DR, Brambilla D, Woods G, Olivieri N, Driscoll C, Miller S, Wang W, Hurlet A, Scher C, Berman B, Carl E, Jones AM, Roach ES, Wright E, Zimmerman RA, Waclawiw M. Prevention of a First Stroke by Transfusions in Children with Sickle Cell Anemia and Abnormal Results on Transcranial Doppler Ultrasonography. N Engl J Med 1998 Jul; 339: 5-11.
Koumbourlis AC, Zar HJ, Hurlet A, Goldberg MR. Prevalence and reversibility of lower airway obstruction in children with sickle cell disease. J Pediatr 2001 Feb; 138(2): 188-92.
Miller ST, Wright E, Kutlar A, Mckie V, Wang W, Pegelow CH, Driscoll C, Hurlet A, Woods G, Elsas L, Embury S, Adams RJ, Stroke Prevention Trial And The Cooperative Study Of Sickle Cell Disease . Alpha Thalassemia is associated with decreased risk of abnormal transcranial Doppler ultrasonography in children with sickle cell anemia. J Pediatr Hematol Oncol 2003 Aug; 25(8): 622-8.
Driscoll MC, Hurlet A, Styles L, Mckie V, Files B, Olivieri N, Pegelow C, Berman B, Drachtman R, Patel K, Brambilla D. Stroke risk in siblings with sickle cell anemia. Blood 2003 Mar; 101(6): 2401-4.
Halverson GR, Lee AH, Oyen R , Reiss RF, Hurlet A, Reid MF. Altered glycosylation leads to Tr polyagglutination. Transfusion\r\n 2004 Nov; 44(11): 1588-92.