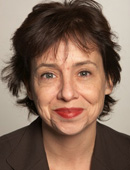 Alison D Schecter, MD
Position

ADJUNCT ASSOCIATE PROFESSOR | Medicine, Cardiology
Dr. Schecter received a B.A. from Mount Holyoke College and her medical doctoral degree from SUNY Health Science Center at Brooklyn in 1990. She completed internal medicine internship and residency (1990-1993) at Johns Hopkins Hospital and cardiology fellowship at Massachusetts General Hospital in 1993-1994 and Mount Sinsia School of Medicine in 1994-1996.
Dr. Schecter is the co-founder of the Women's CARE program (Cardiac Evaluation and Risk Assessment Program), which was created at Mount Sinai out of Dr. Schecter's interest in women's cardiac prevention. In connection with her interest in women's cardiac prevention, Dr. Schecter has appeared on numerous network and cable television stations such as CBS, ABC and the Oxygen Network,in an effort to impact on the education of laypeople about lifestyle modifications that could be potentially life saving.
In the News
Dr. Schecter discusses sleep apnea in The Daily News feature The Daily Check Up. View the PDF.
Language
English
Dr. Schecter's research interest focuses on the relationship between inflammation and thrombosis in pathogenesis of atherosclerosis. Chemokines and their receptors have recently been identified as critical mediators of such diverse inflammatory processes as HIV infection, transplant vasculopathy and atherosclerosis. Dr. Schecter's laboratory uses a multidisciplinary approach, implementing in vitro molecular, cellular and in vivo biological approaches to determine the role of chemokines in the vessel wall and, in particular, on arterial smooth muscle. Her laboratory recently identified the chemokine receptor, CCR5, a co-receptor for HIV infection, in arterial smooth muscle cells and in the atherosclerotic plaque. This receptor is functionally active in these cells and one current project is to dissect the signaling pathways associated with this receptor and, most importantly, determine its putative function(s) in the normal and atherosclerotic vessel wall. Currently they are using both molecular/cellular techniques and whole vessel organ baths to answer these queries. Their hypothesis is that receptor mediated responses observed in the whole vessel in vivo can be used to elucidate the mechanism of response generation. In addition, in collaboration with Drs. Klotman and Berman, she is investigating the role of CCR5 in both HIV-related vasculopathies and in Kaposi's sarcoma. In summary, Dr. Schecter's laboratory is investigating new roles for inflammatory molecules and their receptors in the development of atherosclerosis and thrombosis in the arterial wall.