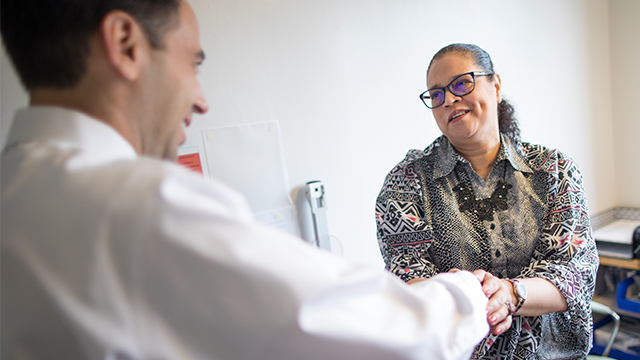 If you or a loved one has diabetes, or is at risk of it, you're not alone—diabetes affects about one out of every eight New Yorkers. And you're in good hands with Mount Sinai's diabetes doctors, who offer you treatment and education to help you manage this chronic condition, all in a patient-centered and compassionate environment.
Your Mount Sinai doctor also gives you direct access to a full range of Mount Sinai Health System resources, including research studies and clinical trials focused on diabetes. The Mount Sinai Health System's flagship hospital, The Mount Sinai Hospital, is ranked among the nation's top diabetes hospitals by U.S. News & World Report.
From medication and weight management to surgery, we treat all types of diabetes conditions, including:
Type 1 diabetes
Type 2 diabetes
Gestational diabetes
Diabetes Locations South of 34th Street
We encourage you to see a Mount Sinai diabetes specialist in a downtown neighborhood that is convenient for you.
Mount Sinai Doctors – East 34th Street
55 East 34th Street
New York, NY 10016
Phone: 212-252-6000
Mount Sinai Doctors – 14th Street
226 West 14th Street
New York, NY 10011
Phone: 212-252-6000
Mount Sinai-Union Square
10 Union Square East
New York, NY 10003
Phone: 212-420-4412
Mount Sinai Beth Israel
First Avenue at 16th Street
New York, NY 10003
Phone: 212-420-2226