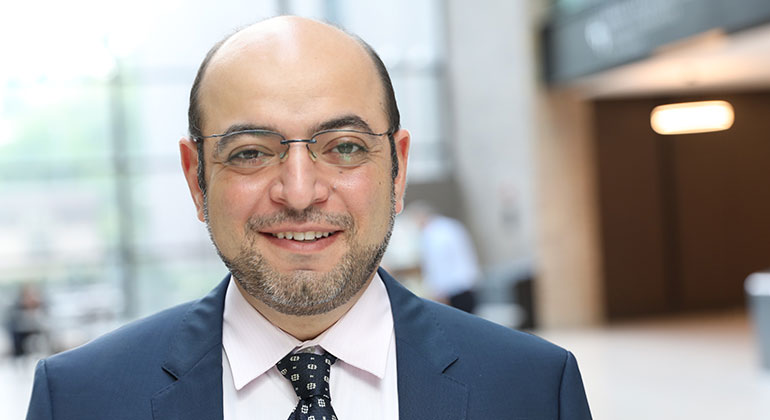 Joseph Mahgerefteh, MD, Has Joined Mount Sinai Kravis Children's Hospital as Director of Preventive Cardiology
Expertise in Quantitative Echocardiography Will Be Critical in Assessing Effects of Hypertension, Diabetes, and Obesity on Pediatric Heart Disease
On July 6, 2020, Mount Sinai Kravis Children's Hospital welcomed Joseph Mahgerefteh, MD, as Director of Preventive Cardiology at its Children's Heart Center. Dr. Mahgerefteh previously held a leadership role in the Pediatric Healthy Heart Program at the Children's Hospital at Montefiore.
"I am delighted that Dr. Mahgerefteh will be joining the team at the Children's Heart Center at Mount Sinai. He brings to our team a rare expertise in preventive cardiology with a specific interest in lipid disorders, obesity, and hypertension. The ability to provide this level of preventive cardiologic care for children is unique in the tri-state region and I am excited that he is bringing his knowledge and skills to our program at Mount Sinai Kravis Children's Hospital," says Robert Pass, MD, Chief of Pediatric Cardiology, Mount Sinai Health System.
Dr. Mahgerefteh has served as an epidemiologist in the health department in his native Iran and has collaborated with the World Health Organization on programs to address childhood chronic diseases. He has expertise in the management of genetic dyslipidemias, which occur when there is an elevation of lipids—such as the so-called "bad" cholesterol (low-density lipoprotein or LDL) or triglycerides—in the blood. Typically managed through the use of statins, this disorder is more common than most people think and the majority of patients (80-90 percent) remain undiagnosed until their first cardiovascular event in young adulthood. Dr. Mahgerefteh also brings to Mount Sinai Kravis Children's Hospital expertise in the use of quantitative echocardiography as a tool to assess the effect of chronic diseases and disorders such as hyperlipidemia, hypertension, diabetes, and obesity on pediatric cardiovascular disease. Quantitative echocardiography is the most commonly used non-invasive tool to evaluate and assess cardiac function.
Dr. Mahgerefteh received his medical degree from Isfahan University of Medical Sciences in Isfahan, Iran. He performed his residency in pediatrics at Children's Hospital at Maimonides Medical Center and his pediatric cardiology fellowship at the Children's Hospital at Montefiore - Albert Einstein College of Medicine. Most recently, Dr. Mahgerefteh built one of the largest pediatric preventive cardiology programs in the United States at the Children's Hospital at Montefiore.
"I am thrilled to join the world-renowned faculty of the Icahn School of Medicine at Mount Sinai and to build a new program in pediatric preventive cardiology at Mount Sinai Kravis Children's Hospital. With our children today facing countless threats to their health, including obesity, hypertension, diabetes, a sedentary lifestyle, and poor diet, we urgently need a program expressly designed to identify patients who are genetically at higher risk and implement preventive health care strategies that will keep their hearts healthy," says Dr. Mahgerefteh.