Mount Sinai Brooklyn Infusion Centers
When you have received a cancer diagnosis or are in need of infusion services, the doctors and specialists at Mount Sinai are here to help guide you through the treatment process. Mount Sinai Brooklyn Ambulatory Infusion Center and Mount Sinai Doctors Sheepshead Bay deliver high quality medical expertise and advanced treatment options at our South Brooklyn treatment centers, offering a wide variety of services related to blood and cancer disorders.
Our treatment team is committed to providing the best care possible for all blood-and cancer-related conditions. Our Mount Sinai Brooklyn Ambulatory Infusion Center and Mount Sinai Doctors Sheepshead Bay locations provide convenient access to the comprehensive medical services you in need, right in your Brooklyn neighborhood.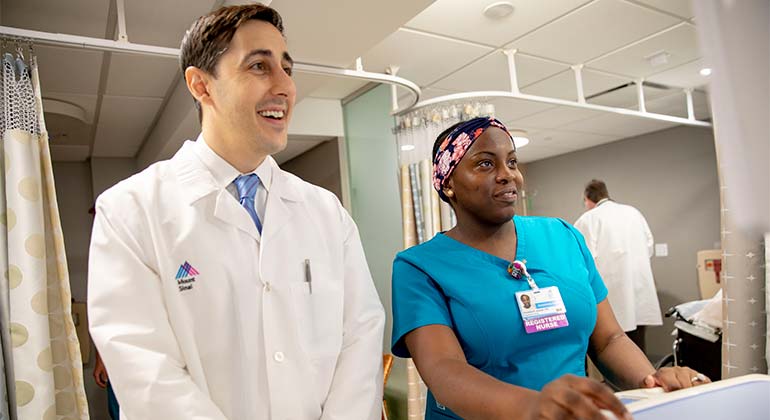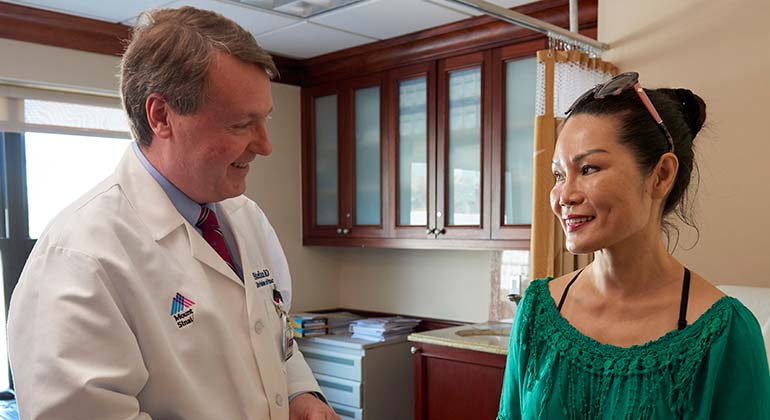 Services
At Mount Sinai, infusion therapy and cancer treatment is an important part of the services we provide for you and your family. Our patients receive the newest available treatment options in a community setting, with emphasis on compassion and personal attention. Through our relationships with our Mount Sinai Health System colleagues, you benefit from Mount Sinai's renowned excellence in cancer care.
Our treatment options include:
Therapeutic infusion treatments
On-site chemotherapy
Medical oncology consultation
Immunotherapy
Targeted agents
Blood transfusions
Clinical trial referrals
Our highly experienced team of oncologists treats cancers in a range of areas, including gynecologic, gastroenterology related (stomach and intestinal), and thoracic conditions. If needed, we refer patients to our Manhattan colleagues to participate in ground breaking clinical trials. A social worker visits weekly to offer additional support to help patients understand the impact of their diagnoses and provide access to needed resources.
We understand the stress a cancer diagnosis can bring. At Mount Sinai, we take the time to develop a relationship of trust with our patients to ensure that each person walking through the door knows their lives are in the right hands. We are committed to ensuring that our patients achieve the best possible care.
Conditions We Treat
While both of our Brooklyn centers offer similar infusion and cancer treatment services, there are minor differences.
At the Brooklyn Ambulatory Infusion Center, we evaluate, diagnose and treat all blood and cancer-related conditions such as cancers of the breast, lung, prostate, gastrointestinal tract, head and neck and thyroid and thyroid nodules. We also provide infusion treatments for anemia, lymphoma, multiple myeloma and myelodysplastic syndrome (MDS). Infusion therapy is also used as a treatment for other disorders including gastrointestinal, rheumatologic, dermatological and neurological conditions.
Our Sheepshead Bay location provides comprehensive services to all blood and cancer-related conditions including anemia, lymphoma, myelodysplastic syndrome (MDS), multiple myeloma, lung cancer, esophageal cancer, pancreatic cancer, prostate cancer, and a full range of gastrointestinal and gynecologic cancers.