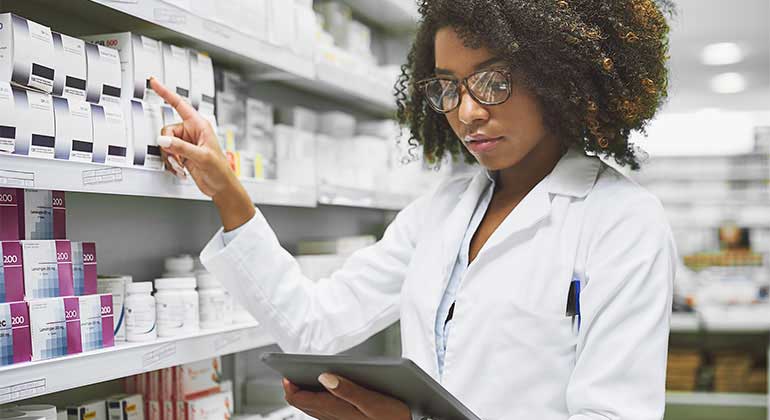 The Mount Sinai Specialty Pharmacy gives you access to specialized pharmacists and technicians. Our pharmacists are medication experts on your medication plan. We can help with a wide variety of rare and chronic conditions. In addition to the medications, we can give you pillboxes, sharps containers, and other items that can help take and keep track of your drugs.
Ask for an interpreter if you are deaf or hearing impaired, or if English is not your primary language.
Getting Started
When your doctor sends a prescription to the Mount Sinai Specialty Pharmacy, we enroll you in our personal specialty pharmacy service. Enrollment is optional, and you may call us at any time to be removed.
Working with Your Insurance Company
We contact your insurance company to request coverage of the medication. This process is often called "prior authorization." It may take us a few days to complete this process. We will keep you and your doctor informed of each step of the process.
If your insurance denies coverage for your medication, you may have the right to file an appeal with your health plan. We have the knowledge and resources to help you with the appeals process.
Financial assistance
Specialty medications can be very expensive. Even after your insurance company pays its share, the cost may still be quite high. We can research financial assistance programs that might be able to help. We may ask you to fill out a patient medication assistance program authorization form to allow us to provide these services. Some drug companies offer a Free Drug Program. If that's available, we will help you enroll in the program
Clinical support
Our clinical pharmacists are specifically trained on the medications you are taking and can answer your questions. A clinical pharmacist will educate you on your medication, either during your clinic visit or over the telephone. We are available 24 hours a day, seven days a week for any urgent questions or needs that may arise. Please call us if you have any questions regarding your treatment. In case of an emergency, call 911.
Rarely, people have a bad reaction to a specialty medication. If you do, contact the Mount Sinai Specialty Pharmacy or the doctor who prescribed the drug. Call 911 or have someone drive you to a local Emergency Department if the reaction appears serious or life threatening.
Patient management programs
Depending on your medical condition, we can provide a patient management program. There is no charge and participation is voluntary. Services include:
Working with your health care team to make sure your specialty medications are as safe and effective as possible
Teaching you how to take your medicine correctly - how much and how often
Training you to properly use injectable medications and devices
Helping you prepare for and manage possible side effects and drug interactions
Helping you prevent missed doses
Explaining how your medication is monitored and what the results mean
You can change your mind about participating in the Patient Management Program at any time. Just call us during normal business hours.
Talking with Us
Mount Sinai Specialty Pharmacy will call you to let you know your co-pay amount and to discuss how you want to get your medication. We may also call you to:
Verify your prescription insurance information
Get documentation of your income to enroll you in a financial assistance program
Provide education and support if you did not receive it in person
Confirm that your prescription has been transferred to another specialty pharmacy
Notify you of any FDA recalls of your medication
You should contact us if:
Your address, telephone number, or insurance information has changed
You have any questions about the status of your prescription
You have concerns about how to take your medication
You would like additional information about your treatment
You suspect an error in shipping or dispensing
You are concerned that the FDA has recalled your medication
You are running low on medication and have not received a refill call
You have any questions about your prescription claim or billing
Obtaining Medications and Services
Delivery
You can get your specialty medications in three ways. You can pick it up at one of our Mount Sinai Pharmacies, we can mail it to your home or another approved location, or we can deliver it to you in clinic. We include any supplies you may need, such as needles, syringes, and alcohol swabs. If your medications require special handling or refrigeration, they will be packaged and shipped accordingly. Some medications require a signature upon delivery. If you will need to sign for your drugs, we will let you know and help you arrange to do this conveniently. Please contact our service center with any concerns or questions regarding your delivery.
Inclement weather delivery policy
We will make every effort to deliver your supplies early if there is a bad weather warning. Should this occur, we will attempt to contact our patients, in order of disaster priority, with any special instructions. Please make sure your contact information is on file and up to date so we can get your medication to you.
How to fill a new prescription
If you need a new prescription, we will work with the doctor who prescribed the medication. You can also call us and request that we contact your prescriber to obtain a new specialty prescription.
Refill Reminders
We will call you about a week before your medication is scheduled to run out to check your progress and coordinate the shipment of your next refill. You may also contact our service center at any time to request a refill. Please give us five days advanced notice to prepare the medication. If you need to refill your prescription early, perhaps because you lost your medication or are going on vacation, give us a call. We can explain your options.
The Billing Process
Drug Claims
Mount Sinai Specialty Pharmacy will bill your insurance company for you. You may still need to pay part of the cost. We will tell you the cost to you. You must pay for your medication before we can order a refill. For your convenience, we can add a credit card to your pharmacy account. We also accept money orders.
Payment Plan
If you need help in arranging a payment plan for the money you owe, we can help you set one up. Please call us and let us know about your situation.
Returns
In general, you cannot return a specialty medication. Please let us know if you have any concerns about your medication. Call if you have mechanical problems with your injectable drug.