Heart Attack Catches Woman Off Guard: Symptoms Aren't the Same As Men's
Sue Fallon noticed a funny feeling in her chest but did nothing. The heart attack she suffered later, though, was no laughing matter.
Family therapist Sue Fallon, 53, detected a funny feeling in her chest one day while walking with a friend. It lasted just a second, though, so Sue thought no more about it.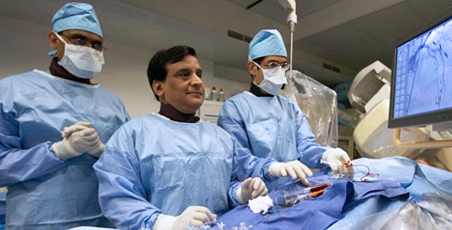 But the pinpoint pain returned several times over the next few days. And in the back of her mind, Sue recalled her father and grandmother — each dead of a heart attack at age 40.
Sue herself had fluctuating episodes of high blood pressure and a borderline cholesterol level. But she wasn't overweight, and the sensation was nothing like the chest-clenching pain she associated with a heart attack. So she continued to brush off the pain as nothing serious.
Inconsequential Pain Is Anything But
Ultimately Sue found herself in the emergency room of a small hospital near her home in Queens, NY, where 12 hours later, Sue experienced crushing pain in her chest and arm — a massive heart attack. One of Sue's coronary arteries was completely blocked.
Sue received a stent to prop open the vessel and was released five days later. But on her second day home, at 5 am, she was jolted awake by severe back pain. Sue returned to the hospital and waited for the cardiac catheterization lab to open.
Heart Damage Requires Additional Care
Tests showed that Sue's coronary blockage was still there, requiring two more stents and another four-day hospital stay. With 30 percent of her heart damaged, Sue was at risk for continued problems. "I was utterly stunned by how fatigued and frail I was," Sue says.
Sue wanted to avoid a repeat event. She began searching for a New York cardiac rehabilitation program and a new doctor. Her daughter, who had attended Mount Sinai School of Medicine, recommended Mount Sinai Heart.
Sue saw Mary Ann McLaughlin, MD, Associate Professor of Cardiology. Dr. McLaughlin is the Medical Director of the Rehabilitative Cardiac Health Program as well as Director of the Women's Cardiac Assessment and Risk Evaluation Program. She fine-tuned Sue's medications and evaluated her heart function regularly with imaging studies, stress tests, echocardiograms, and blood tests.
Inspired, Sue continued her rehabilitation program of monitored exercise well beyond the typical 12 weeks. She gained strength and enjoyed the camaraderie of working out with other heart disease patients.
New Stents Ease Problems
Sue's coronary arteries continued to cause problems. The initial stents placed in the Queens hospital had been precariously positioned, so new ones were required to shore up the artery. Mount Sinai Heart Cardiac Catheterization Laboratory Director Samin K. Sharma, MD, Professor of Cardiology, situated the new stents to provide maximum support. This time, Sue did not have to wait. The Mount Sinai catheterization lab is open 24 hours a day, seven days a week.
In the years since her first cardiac event, Sue has become more vigilant about heart health — as have those close to her. Her partner also received new stents through Dr. Sharma, and he, too, sees Dr. McLaughlin as his cardiologist. So do her daughter, son-in-law, and mother, the third member of the family to have a stent inserted by Dr. Sharma.
Sue is thankful that the members of her family are proactive about their cardiovascular health. "I love them with all my heart," Sue says, "even if it is only 70 percent."