Former Jockey Back in the Saddle After Mount Sinai Heart Transplant
When Peter Smith had a heart attack, a ventricular assist device served as a bridge to transplant.
One summer afternoon, racehorse trainer and former jockey Peter Smith, 57, was at the track in upstate New York, exercising thoroughbreds. As he put the horses through their paces, Peter noticed he was experiencing physical discomfort and that he was perspiring more than usual. He shrugged it off as exertion, took two aspirin, and headed to Saratoga Lake to walk his two cocker spaniels.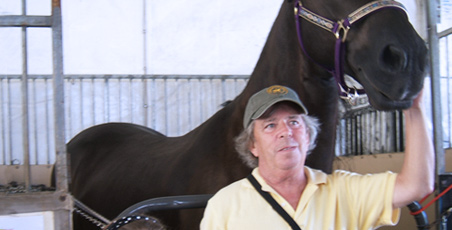 By the time he got there, Peter felt that something was not right. He called a friend to take him to the emergency room.
As he waited for his test results, Peter reflected on his family history of cardiovascular disease. His brother had died five years earlier, at the same age, of heart failure. His mother and father had both died from heart disease. He was aware that he was at greater risk for the condition. Even without the symptoms of chest-crushing pain or difficulty breathing, Peter knew what he might be facing.
The tests results showed Peter had suffered a massive heart attack. His treating physicians called the injury to his heart severe and beyond the capabilities of the small community hospital. After two local consultations, a cardiologist in Albany referred him to Mount Sinai Heart.
Peter traveled to New York City, where he met with Sean P. Pinney, MD, Director of the Advanced Heart Failure and Cardiac Transplant Program and Assistant Professor of Cardiology. A battery of diagnostic tests revealed damage to Peter's heart was so severe that his only option was a heart transplant.
Patients requiring heart transplants can wait months for a suitable donor. In an effort to buy Peter time, Dr. Pinney recommended a ventricular assist device (VAD), a mechanical pump that supports circulation by taking over the function of deteriorated ventricles. Anelechi Anyanwu, MD, Associate Professor of Cardiothoracic Surgery, inserted the VAD.
"It was amazing," Peter recalls. "I got the pump on June 16, and three weeks later I was home."
Extra Time Pays Off
Three months later, Peter was grocery shopping with his niece when his cell phone rang. It was Mount Sinai calling to notify him that they had found a donor heart. "I was so excited that I left everything in the cart and went home to pack."
When he arrived at Mount Sinai Heart, his transplant team, led by Dr. Anyanwu, was ready to go. Peter got his new heart.
Peter visits Mount Sinai weekly, and Dr. Pinney monitors his progress. Peter says he feels lucky that the upstate doctors he saw in those first tense June days pointed him to Mount Sinai Heart.
Although he has retired from thoroughbred racing, Peter expects a reunion with his four-legged companions. "I'll be near the retired racehorses that are living out their days grazing and running free in an enormous pasture, never to wear a bridle or saddle again," he says. "Horses are still close to my heart, even this new one."