Careful Planning Saves Baby's Life
When Dawn and Scott Buxbaum learned the baby they were expecting had a heart defect, they turned to Mount Sinai Heart.
Dawn Buxbaum and her husband, Scott, were eagerly expecting their first child when Dawn began to spot. On Mother's Day, in her 17th week of pregnancy, Dawn miscarried. A problem with the baby's' heart was believed responsible for the miscarriage. Two years later Dawn became pregnant again, and all went well until her 28th week.
Problems with the Fetus's Heart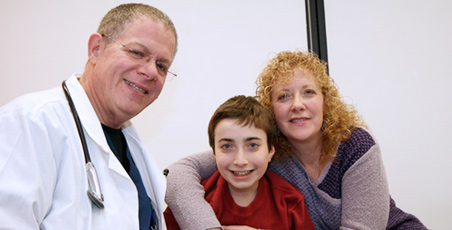 Dawn was undergoing a routine ultrasound when her technician saw something worrisome and consulted a doctor. The baby's heart, it seemed, wasn't functioning properly.
"We were shell-shocked," Dawn remembers. "My husband, who never cries, was inconsolable."
The following morning, Dawn and Scott met with a pediatric cardiologist, who told them an aortic valve in the fetus was severely malformed. The cardiologist believed their child would need three open-heart surgeries in the first four years of life or a new heart altogether. They were referred to Ira Parness, MD, Professor of Pediatrics and then Director of Pediatric and Fetal Echocardiography at Mount Sinai Heart. Dr. Parness had experience in congenital heart defects and could better explain the necessary surgeries.
"We knew we had to act fast," Dawn says. "Dr. Parness saw us the very next day."
A Severely Narrowed Valve
By the time the Buxbaums arrived at Mount Sinai Heart, Dr. Parness, had reviewed all of Dawn's medical records and was fully aware of the situation.
"He performed an echocardiogram himself, sat us down, drew a diagram of the heart, and explained the surgery in detail," Dawn says. Their baby's aortic valve, they learned, was severely narrowed.
Dawn never forgot Dr. Parness's next words. He recommended a new alternative: balloon aortic valve dilation. A team of pediatric interventional cardiologists would perform cardiac catheterization on her son soon after birth. The procedure enables physicians to widen an aortic valve by entering the heart through flexible tubes threaded through the veins.
When Dr. Parness told Dawn that he thought her son would be a good candidate for the surgery, she instantly consented. If the procedure were successful, her son could avoid open-heart surgery.
New Worries at Week 32
Everything proceeded according to plan until Dawn's 32nd week, when she learned the fetus had begun taking on fluid. Dr. Parness asked Dawn to come to the hospital and prepare for an early delivery.
Because premature babies are at risk of serious complications, Dr. Parness worried that Dawn's son would be born too weak to endure cardiac catheterization. Dawn received medication to accelerate development of her son's premature lungs. She also took a medication to strengthen her contractions and reduce the fluid accumulating in her baby's body.
On Mother's Day, three years to the day from her first miscarriage, Dawn and Scott learned the treatment had worked.
"My obstetrician came in elated," Dawn says. "The fluid had been reduced. We were back to normal."
After several days of supervision, Dawn was sent home but returned for weekly monitoring. At 36 weeks, when her baby's heart was considered strong enough, Dawn returned to Mount Sinai Heart to deliver her son.
Out of the Womb and Into the Operating Room
On June 24, baby Tyler was born. While Dawn recovered from the birth, her son was sent to the Mount Sinai Heart Pediatric Cardiac Catheterization Laboratory for balloon aortic valve dilation. For three weeks, Tyler lived in the Pediatric Cardiothoracic Intensive Care Unit, a specialized cardiac care unit for pediatric patients.
"The care in the pediatric cardiac unit was amazing," Dawn says. "Tyler had his own room and a dedicated nurse."
Tyler's condition improved over the next few weeks, and eventually his heart function was strong enough for him to go home. At 4 months, he received another catheterization to further widen his aortic valve. By his first birthday, Tyler was considered moderately improved. By age 2 , his heart function was considered normal.
"To look at him, you wouldn't think there was anything wrong," Dawn says. "There are no scars, and Tyler is a strong, completely active, intelligent child."
Should Tyler's aortic valve eventually deteriorate and need replacement, Dawn hopes that new, longer-term solutions will have been developed.
At Age 13, Tyler Perfectly Healthy
Dawn can't imagine what life would be like if she hadn't met Dr. Parness. Thirteen years after Tyler's remarkable birth and successful treatments, she and her husband celebrated their son's bar mitzvah, a coming-of-age ritual in the Jewish religion.
The Buxbaums are thankful for their son's continued health. They bring Tyler to Mount Sinai Heart every six months for a check-up,. And every January, Dawn and Tyler stand at a podium to address the next generation of doctors about their experience.
"I think it is important to educate medical students about the patient and parent perspective," Dawn says. "When faced with hard decisions, we need to be positively focused, regardless of the potential outcome, just as Dr. Parness was."