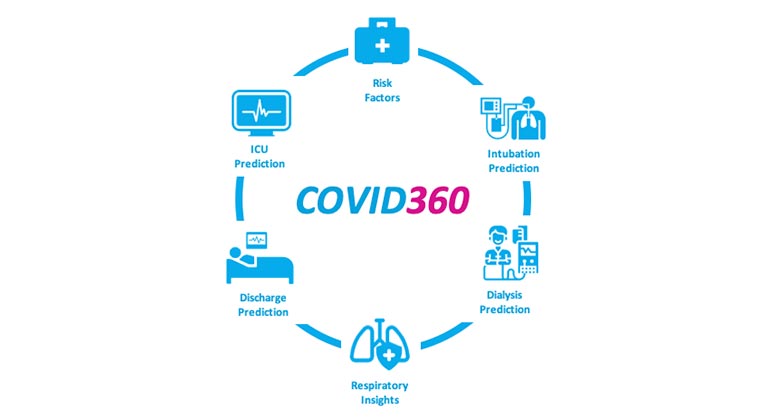 In response to the COVID-19 pandemic, MSCIC launched COVID360 to serve as a consolidated hub of COVID-19-specific patient information. Utilizing its unique capabilities for data harmonization and predictive modeling, MSCIC and the MSHS Clinical Data Science (CDS) team developed a true "bench to bedside" tool to combine medical record information, risk factors and predictive model output into a centralized tool to provide rapid insights for clinicians treating COVID-19 patients.
Developed in collaboration with design partners at Intuit, COVID360 provides a centralized view of COVID-19-specific patient data alongside visual representations of predictive models developed by Mount Sinai researchers to inform clinical care within Epic. Key MSHS hospitalists and clinicians were actively involved in designing the overall look and user experience to ensure the tool and all data within is easy to use and interpret while treating critical patients in real-time. This product is the first to incorporate design thinking techniques and data science insights to assist clinicians as they focus on providing optimal patient care.
A critical factor in the success of COVD360 was the use of the rapid deployment pipeline developed by the CDS team. This pipeline brings predictive models from the research setting to the clinical operations setting in an organized and well-documented fashion, facilitating true translational research. COVID360 features an expanding array of predictive models including the probability of discharge, requiring mechanical ventilation, ICU admittance, and requiring dialysis, all of which will help clinicians assign resources appropriately. For a deeper dive, users are able to easily click to view details on the data points that factor into each predictive model to promote transparency and understanding.
COVID360 is a key example of the benefit of harmonizing data to derive and display insights in an easily-digestible and collaborative manner to bring novel and cutting edge solutions to the frontlines to ultimately improve patient care.