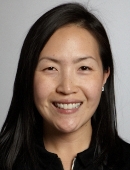 Shelly A Im, MD
Position

ADJUNCT ASSISTANT PROFESSOR | Medicine, Endocrinology, Diabetes and Bone Disease
Shelly Im, a graduate of New York University's School of Medicine, completed her internship and residency in Internal Medicine at Mount Sinai Hospital and stayed on for an additional year as a hospitalist in the Division of General Medicine. She returned to New York University to pursue her fellowship training in Endocrinology, Diabetes and Metabolism. During her training she participated in research projects involving thyroid disease in pregnancy as well as atypical fractures related to bisphosphonate use.
Dr. Im is currently the Medical Director for the Diabetes & Cardiovascular Alliance Program at Mount Sinai Hospital, collaborating with certified diabetes educators to optimize Diabetes management in the local community. She sees patients at Mount Sinai Hospital affiliated off-sites in Bay Ridge, Brooklyn, Jackson Heights, Queens, and Washington Heights in Manhattan. Her clinical interests include Diabetes Mellitus, thyroid disease, thyroid cancer, and osteoporosis.
Clinical Focus
Nontoxic Nodular Goiter
Osteoporosis
Vitamin D Deficiency
Language
English
Markman LH, Allison MB, Rosenberg ZS, Vieira RL, Babb JS, Tejwani NC, Im SA, Peck V. A Retrospective Review of Patients with Atypical Femoral Fractures While on Long-Term Bisphosphonates: Including Pertinent Biochemical and Imaging Studies. Endocrine practice : official journal of the American College of Endocrinology and the American Association of Clinical Endocrinologists 2013 Jan;.
La Rocca Vieira R, Rosenberg ZS, Allison MB, Im SA, Babb J, Peck V. Frequency of incomplete atypical femoral fractures in asymptomatic patients on long-term bisphosphonate therapy. AJR. American journal of roentgenology 2012 May; 198(5).
Reh A, Chaudhry S, Mendelsohn F, Im SA, Rolnitzky L, Amarosa A, Levitz M, Srinivasa S, Krey L, Berkeley AS, Grifo JA, Danoff A. Effect of autoimmune thyroid disease in older euthyroid infertile woman during the first 35 days of an IVF cycle. Fertility and sterility 2011 Mar; 95(3).
Honiden S, Schultz A, Im SA, Nierman DM, Gong MN. Early versus late intravenous insulin administration in critically ill patients. Intensive Care Medicine 2008; 34: 881-887.